Buy Wet N Wild Emerald Pointe discount tickets starting at $xx vs $xx the gate price.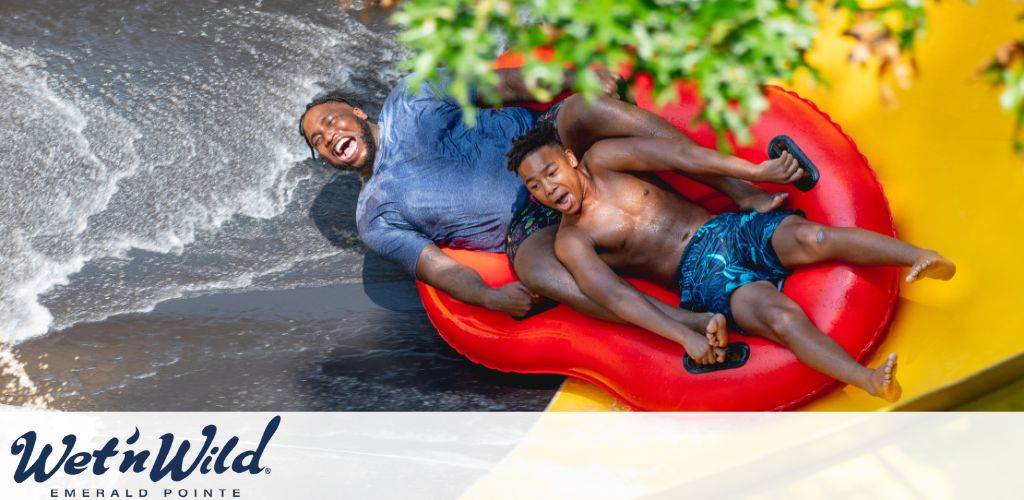 From Tame to Wild, Everyone Can Find Something They Like Here!
Embark on an exhilarating journey as you immerse yourself in over 40 captivating attractions that will fill your day with endless joy and excitement. Whether you prefer a subtle touch or an exhilarating experience, the diverse variety ensures you will find something for everyone. Experience the ultimate relaxation as you gently drift along the tranquil Lazy River. Feel the exhilaration as you plunge into the refreshing waters of Thunder Bay Wave Pool. For those seeking an adrenaline rush, brace yourself for the heart-pounding excitement of Bombs Away and Daredevil Drop, where speed and thrills await at every turn!
Have a great time and allow yourself to be captivated by the incredible adventure of the brand-new triple-thrill Bermuda Triangle at Wet 'N Wild. Experience the exhilarating rush of the high-speed slide as you are transported through a mesmerizing star field, surrounded by amazing light effects.
From the smallest adventurers to the most daring thrill seekers, there is something for every member of the family to enjoy. Soothe your senses, beat the heat, and get your discount Wet N Wild Emerald Pointe tickets through GreatWorkPerks today to create lasting memories of a day full of pure aquatic bliss!
The LOWEST-PRICED Wet N Wild Emerald Pointe Discount Tickets
Hassle-Free Transaction, Skip the Line!
Another benefit of purchasing from GreatWorkPerks is that you do not need to print your Wet N Wild Emerald Pointe discount tickets. Consider your phone your new best friend because all you need to do is present your e- Wet N Wild Emerald Pointe tickets at the gates, and in you go!
Frequently Asked Questions for Wet 'N Wild Emerald Pointe
Are reservations required to enter?

No. Reservations are not needed. Head straight to the entrance with your discounted Wet N Wild Emerald Pointe ticket from GreatWorkPerks

Where is the park located?

The park is located at 3910 South Holden Road, Greensboro, NC 27406.

Does the park have a parking area?

There is only paid parking available. There are various parking options to choose from, with varying parking fees. Pro-tip: Book your parking slot online to save time when you get there!

Are Wet N Wild Emerald Pointe tickets refundable?

Wet N Wild Emerald Pointe discount tickets are non-refundable and non-returnable.

When will my Wet N Wild Emerald Pointe tickets expire?

Your Wet N Wild Emerald Pointe discount tickets are valid for one single-day use until September 4, 2023. Visit the park on your preferred date!

What modes of payment does the park accept?

The park accepts only electronic payments, including all major credit and debit cards and other secure mobile payments, such as Apple and Google Pay.

What if I only have cash?

No worries! You may convert your cash into a prepaid card at the cash-to-card kiosks in the park, free of charge.

Are lifejackets provided inside?

Yes, US Coast Guard-approved lifejackets are provided free of charge throughout the park.

Are there any height limitations per attraction?

Height restrictions may apply. However, do not worry; there are so many activities at the park for the whole family. Feel free to find the perfect spot for you and your family!

When will I receive my Wet N Wild Emerald Pointe discount tickets from GreatWorkPerks

Instantly! Wet N Wild Emerald Pointe tickets are e-tickets sent to your email. You will receive them immediately after your purchase, along with your receipt.

Do I need to print them?

No need to print out your GreatWorkPerks discount tickets! Head straight to the gate. You can go paperless with us. Present your ticket through your smartphone and enter quickly!
Last updated August 7 2023
Wet 'n Wild Emerald Pointe Tickets