Enjoy savings of up to 30% off the gate price with Blue Man Group discount tickets from GreatWorkPerks!
Overview
Watching Blue Man Group will change your life forever! Together, you will find music, joy, and surprises around every corner as three bald and blue men set out to investigate our world.
You won't be able to put your finger on what exactly happened by the time this incredible journey is through, but you will know that you totally adored it. Still playing to sold-out crowds in its original venue, Blue Man Group New York has proven its staying power.
Visit the original home of the play, the cozy Astor Place Theatre in the heart of New York City. The innovative, multi-sensory world of Blue Man Group has been experienced by 35 million individuals of various ages, languages, and countries. You can now see the off-Broadway sensation in New York with GreatWorkPerks Big Man Group tickets at very steep prices!
GreatWorkPerks Blue Man Group Discount Tickets 2022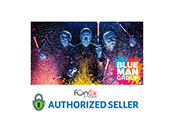 Hassle-Free Transaction, Skip the Line!
Another benefit of purchasing from GreatWorkPerks is that you do not need to print your New York Blue Man Group discount tickets. Consider your phone your new best friend because all you need to do is present your GreatWorkPerks discount from your phone without hassle!
Plus, if you purchase Blue Man Group tickets in advance through GreatWorkPerks, you don't need to lineup at the theater entrance; skip the queue, there are no wait times with us!
We Are Rated A+ By the Better Business Bureau!
Our A+ rating backs your Blue Man Group discount ticket purchases by Better Business Bureau! Need some clarification? Find the answers to your questions by reaching out to us through:
Text/Call
at
888-295-7375
from 7:00 AM to 10:00 PM daily or,
Background of the Three Blue, Bald, And Funny Men
A Blue Men performance on Broadway is a joyous celebration of the power of art, music, comedy, and nonverbal communication to unite people. The Blue Men's lack of vocals means they may appeal to people of all ages and backgrounds regardless of where they're from or what language they speak. Every time they play, the show is different for the audience. You don't get to experience twice; every show is unique – and this is what makes the Blue Man Group New York the best!
Frequently Asked Questions
Do I need to secure a reservation at the musical theater?

Yes. When you buy through GreatWorkPerks online, you will be asked to choose a date and time of the show that works best for you.

Where is Blue Man Group New York exactly located?

The Musical theatre is located at Astor Place Theatre, 434 Lafayette Street, New York, NY 10003.

How soon do I receive an email from GreatWorkPerks after my purchase?

When you complete an online transaction with GreatWorkPerks, you will immediately receive and be able to keep both your electronic Blue Man Group tickets and your receipt. After a transaction is complete, you should constantly check your email. If the mail is not in your inbox, please visit your spam folder.

Do I need to print my receipt and e-tix from GreatWorkPerks

No, you don't need to print out your GreatWorkPerks Blue Man Group discount tickets. Just save a copy of them to your phone and show it to the staff at the venue or the box office.

If I miss the performance, can I get a refund?

Unfortunately, no. The theater strictly imposes a no-rescheduling policy. Tickets are final. They cannot be returned, exchanged, or refunded under any circumstances. This is why we highly encourage guests to arrive at the venue ideally 30 minutes before chosen time, as there are security checks to be done at the entrance.

Do I need to buy my kid a Blue Man Group discount ticket?

Yes. It would be best if you'd buy for your child as every guest, regardless of age, must have a Blue Man Group ticket – strictly no sitting on the lap for non-paid guests.

Are there any hearing protections available to use for my child?

Parents are highly recommended to use hearing protection for kids to be worn throughout the show. If, in any case, you don't have anything or you forgot to bring one (if you have one), please feel free to approach the Front of House staff. Please also note that hearing protection devices are subject to availability.

Is there any age limit specifically for kids?

Yes. The show is recommended for viewers aged three and up. Kids aged three years and below will not be permitted to enter the theater.

How long does their performance show last?

The show goes on for about 90 to 105 minutes without a break.

What will happen if we're late?

The management reserves the right to seat latecomers whenever they deem appropriate, so long as doing so does not interfere with the performance.

Do they have food and drinks at the theater?

The lobby does serve as a retail location for a selection of delectable munchies and refreshing beverages.

Is there a particular dress code required?

There is no specific way to dress for the show, but we recommend wearing something comfortable and casual.
Blue Man Group New York Tickets
Mezzanine Seating Limited View Seating

Regular price $77.80

Discounted Price From $54.00

Mezzanine Seating

Regular price $87.80

Discounted Price From $62.00

Orchestra Seating

Regular price $101.30

Discounted Price From $81.00

Orchestra Seating Premium Seating

Regular price $125.30

Discounted Price From $105.50

Buy Now

**Prices are dynamic and may change without notice. Purchase your tickets in advance to get the lowest prices.