Get up to 42% off of Menopause The Musical tickets from GreatWorkPerks and enjoy an unforgettable night! Starts at $55.80 vs $115.74 gate price. Lowest prices guaranteed.
Reservations required after purchase of tickets. Please call us at 888-295-7375. Turnaround time for tickets may take up to 2 hours. Tickets are only filled during business hours from 8AM to 8PM PST. Reservations are not guaranteed until we are able to verify the availability on the requested date and time of the booking.
Don't Miss This Memorable Show!
Menopause The Musical has charmed audiences with over 6,000 performances over the course of more than 17 years, making it the longest-running musical in the history of Las Vegas. This award-winning show is happening in Harrah's Cabaret, so don't miss it! Every night of the week, Menopause The Musical entertains, educates, and empowers audiences of all ages by portraying in vivid, hysterical detail what actual women go through during this "milestone" in life while leaving no subject unaddressed. You'll be applauding and dancing along the aisles as the play features lovable characters, optimism, and humor, as well as parodies of well-known songs from the 1960s, 1970s, and 1980s. Every night is a party! Men also enjoy it!
| Day | Performance Schedule |
| --- | --- |
| Monday, Wednesday, & Friday | 8:00 PM |
| Tuesday, Thursday, & Saturday | 4:00 PM & 8:00 PM |
| Sunday | DARK |
*Availability is subject to change. Please call us for more information on the schedule.
Venue: Harrah's Cabaret at Harrah's Las Vegas

Age Requirement: Guests must be 8+ years

Capacity: 296

Duration: 90 minutes
Menopause The Musical Seat Map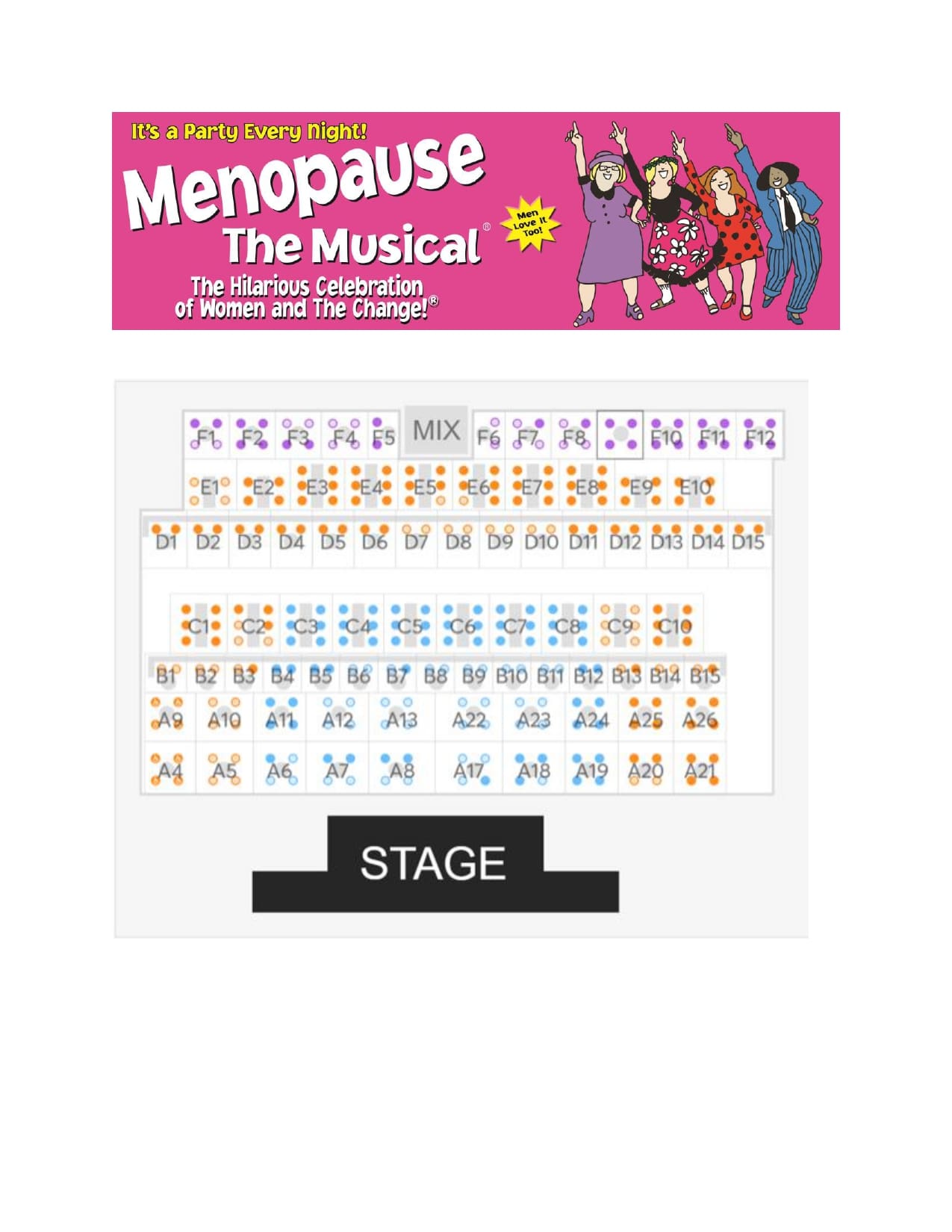 Buy Discount Menopause The Musical Tickets From GreatWorkPerks
We sell the lowest priced tickets!
We provide the lowest prices and the most amazing savings on attractions and shows nationwide, including Menopause The Musical tickets! Hundreds of thousands of members have relied on us for the lowest prices on tickets and passes. Don't miss out; buy your Menopause The Musical tickets today!
Skip the Line!
Our discount Menopause The Musical tickets eliminate the need to stand in line at the ticket booth on the day of your visit. That's more convenient; as soon as the doors open, you can settle into your show immediately and soak up the atmosphere with the convenience of your discount Menopause The Musical tickets.
Become a Fun Express member to enjoy exclusive deals!
The best thing is there are no costs associated with either individual registration or business registration if you already have an Employee Access Code (EAC) or work email. You can save a lot of money on a wide variety of cinemas, theme parks, water parks, museums, outdoor and indoor activities, and more around the United States if you join up for this! Again, there's no fee, it's free!
Last updated July 7, 2023.
Menopause The Musical Tickets
Menopause The Musical Tickets