Dive in for a fishy adventure with your discount SeaQuest Las Vegas tickets from GreatWorkPerks, starting at a low price of $7.25!
The aquarium welcomes guests daily from 11 AM - 7 PM. Purchasing your discount SeaQuest Las Vegas tickets in advance is highly recommended to save time and reduce waiting time, so hurry up and buy yours from GreatWorkPerks today!
Go on a FINtastic Adventure in SeaQuest Las Vegas!
Prepare for a splash of adventure as you come face-to-face with over 1,200 marine creatures! The aquarium welcomes over two million visitors annually to give everyone a fun-filled family adventure with their remarkable exhibits. A variety of hands-on experiences will let you connect with animals of different species, such as birds, stingrays, sharks, and many other tropical animals. Your trip will be educational and fun as you will be learning about the ecosystems through interactive activities!
Experience one of the best attractions in Las Vegas with the whole family, including the little ones! All-in-one fun and educational trip by purchasing your discount SeaQuest Las Vegas tickets from GreatWorkPerks for the lowest prices!
Buy your GreatWorkPerks discount SeaQuest Las Vegas tickets!
GreatWorkPerks is an authorized seller of discount SeaQuest Las Vegas tickets
Another benefit of purchasing with GreatWorkPerks is that you do not need to print your discount tickets. Consider your phone your new best friend because all you need to do is present your discount tickets at the gates, and in you go!
Dive into the Deep World of SeaQuest Las Vegas!
Located in one of the country's most visited cities, the aquarium offers everyone unique experiences with its inspiring exhibits of various creatures! In this 20,000 square feet aquarium, you can interact with different kinds of stunning animals for a family-fun adventure! Stroll through the Great Wall of China, an Icelandic Fishing Village, the Amazon River, and other landmarks to discover species you may have never seen before.
SueQuest Las Vegas also plays a role in conserving the health and well-being of the animals they shelter. Different balanced meals are prepared daily for the 1,500 species of fish, invertebrates, amphibians, reptiles, mammals, and birds to ensure they get the nutrition they need. The animal care team and veterinarians work together on regularly monitoring each animal to make sure they are healthy. The staff has also gone through specialized training to assure that every creature's needs are met and exceeded.
Gather your family and friends for an exciting adventure with your discount SeaQuest Las Vegas tickets! With GreatWorkPerks, the lowest prices are guaranteed for the ultimate trip!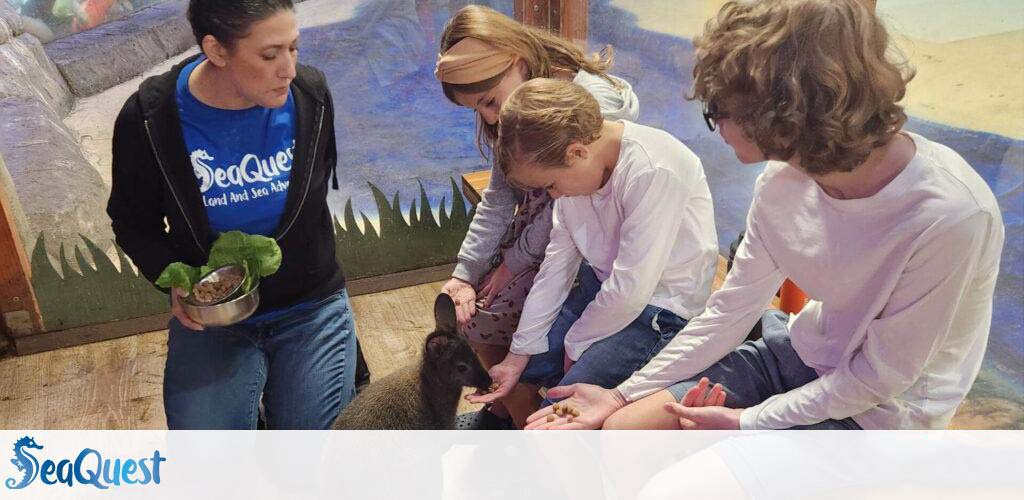 Frequently Asked Questions for SeaQuest Las Vegas
Where is it located?

You can find the attraction at 3528 S Maryland Pkwy, Las Vegas, NV 89169! Remember to purchase your discount SeaQuest Las Vegas tickets from GreatWorkPerks before going!

Are tickets for admission required?

Yes, ticket admissions are required for entry. You may purchase your discount SeaQuest Las Vegas tickets at the lowest prices from GreatWorkPerks

Where inside the mall is the attraction located?

The attraction can be found at the south end of the mall, next to the Galaxy Luxury, Rex Center, and Goodwill.

Are feeding tokens needed?

Purchasing feeding tokens may enhance your experience! The tokens are used to redeem food to feed animals and interact with them. One token is equal to one cup of food.

Are there only fish in the exhibits?

No, there are many animals to visit! Buy your discount tickets from GreatWorkPerks to meet them!

Should I pack anything for my trip?

As the exhibits are home to several species of birds and aquatic animals, you have to be prepared for some splashing!

What if my group has more than ten people?

For groups of over ten people in total, kindly inquire about the attraction through a call.

How should I treat the animals?

The staff will guide and provide everyone with instructions on how to kindly treat the creatures. To gently pet the animal's back, you use two fingers. Please understand if the animals are not visible during the moment, they may be enjoying a peaceful nap.
Last updated March 21, 2023.
SeaQuest Las Vegas Tickets
Single Day Passport

Child (Ages 2-11 yrs)

Regular price $13.99

Discounted Price $7.25

Adult (Ages 12+ yrs)

Regular price $19.99

Discounted Price $10.25